Shelter Island Commerce Center
Certifications & Awards
LEED Canada for Core and Shell Development (registered)
Project Team
Energy Modeler

: Integrated Environmental Solutions (IES)

LEED Commissioning Authority (LCA)

: CES Engineering

Envelope Consultant

: Aqua Coast

General Contractor

: Integrated Construction Concepts (ICC)

Landscape Architect

: Ito & Associates

Civil Engineers

: MPT Engineering

Electrical Engineer

: Opal Engineering

Mechanical Engineer

: BC Comfort

LEED Consulting

: Light House Sustainable Building Centre

Architect

: Sanford Design Group

Building Owner

: Farrell Estates
Green Building Audio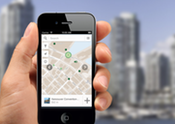 Targeting LEED Green Education Credit?
Our audio tours qualify.
Get one today!
style="font-size: 12px;">
Veronica Owens of Light House Sustainable Building Centre
Summary
Situated on the corner of Graybar and Dyke Road in East Richmond, Shelter Island Commerce Centre is a mixed-use three-story office and warehouse building located on a 13,269 m² site along the Fraser River. The 9,472 m² (101,963 square feet) building offers waterfront office, showroom, and warehouse space within industrial zoning. Located west of Annacis Island, north of Don and Lion Islands, and south of Highway #91, the location offers accessibility to Roberts Bank Super Port and Vancouver International Airport.
The owner's green building mandate for this project was to pursue a Silver rating in the certification in the LEED for New Construction program.
Sustainable Sites
Richmond's mild climate and flat landscape, as well as its growing cycling path infrastructure, lends an attractive accessibility to biking and walking as modes of transportation. To further encourage cycle commuting, Shelter Island Commerce Centre has provided ample bicycle parking, including 24 interior parking spaces for bicycles, and showers for employees.
Occupants who carpool have designated parking spaces, and up to 4 electric vehicles can charge at once in the charging stations.
Storm water management can be a challenge in an area as flat at Richmond, making it a priority for the local region. Storm water runoff is managed and treated on site through the use of oil/grit separators and bioswales on the south and west areas. The use of landscaping for storm water management provides an attractive outdoor environment for employees, which has been augmented with benches and other amenities.
The exclusive use of native and adaptive species for landscaping negates the use of a permanent irrigation system, creating significant water savings.
Energy & Atmosphere
As a tilt-up building, this project had certain fixed design parameters, but a number of green building strategies have created an optimized building providing utility savings for clients.
A balance was struck between energy and building envelope performance and maintaining waterfront views and natural daylight. Skylights were incorporated into the warehouse areas; glazing and insulation selections were optimized, along with efficient heating and cooling strategies. A total of ninety percent of regularly occupied spaces in the building have access to views.
Energy-saving lighting strategies have reduced the project's total lighting power density, including:
Specification of high-efficiency fluorescents, compact fluorescents and LEDs
Installation of low voltage manual switches in public and tenant spaces.
Use of occupancy-sensors to control luminaries in storage rooms, washrooms, service rooms, etc.
Exterior lighting controlled by a time clock schedule.
Efficient heating and ventilation strategies can create significant energy savings. On this project, the use of rooftop air-to-air heat pumps and heat recovery ventilation improved energy performance. Outdoor air is heated within the heat recovery unit. Exhaust is drawn from the occupied spaces, capturing as much heat as practical, and room temperature air draws through the heat recovery system. The exhaust is transferred to the outdoor intake air, creating a resource from exhaust waste heat.
The awareness of occupants is a key strategy for energy conservation. To encourage awareness and conservation, all tenant spaces come equipped with a Quadralogic QMC monitoring system on each tenant's individual electrical panel. Likewise, tenant guidelines were created to minimize tenant energy and water consumption.
Materials & Resources
Shelter Island Commerce Centre was constructed with the same exterior glass and concrete facades of nearby Phase 1 and 2 buildings, using concrete tilt-up walls, a structural steel roof system and extensive glazing.
What sets this project apart is the responsible specification and use of building materials. Building materials with recycled were prioritized as much as possible. Construction waste was minimized as much as possible through on-site recycling, resulting in an 81% diversion of materials from the landfill. A significant achievement in the project's design and specification was the prioritization of using responsibly harvested wood products. The majority of wood-based construction and furniture materials came from wood certified by the Forest Stewardship Council (FSC).
Indoor Environmental Quality
To ensure fresh air and ventilation is tailored to air quality, CO₂ sensors were installed in each tenant space.
Paints, coatings, adhesives, sealants, carpet and composite wood products all meet low-emitting standards (as set by South Coast Air Quality Management District).
The building's main entrance is equipped with a pedimat to minimize sediment and pollutant transfer to the indoor environment.
Innovation in Design
To demonstrate additional initiative on green features, the building owners have created management policies pertaining to the use of non-toxic cleaning products, a reduction of mercury in lamps, and integrated pest management. These policies are in line and demonstrate compliance with the requirements of an additional LEED product, LEED Canada Existing Buildings Operation and Maintenance (EBOM) 2009.
Source: Farrell Estates and project team